Applications Now Open
Applications for PennQuest are now live, scroll down to apply
(Must have your PennKey to submit an application.  PennKeys are provided to you once you confirm your Penn attendence.  Learn more about PennKeys here.)
PennQuest is an outdoor orientation program being offered to 120 first-year students entering the University of Pennsylvania, sponsored by the Office of the Platt Student Performing Arts House, with the support from the Undergraduate Assembly. The goals of the program are:
to foster positive relationships with other students,
to develop personal skills and self-confidence to meet the challenges of a college career and other life experiences, and
to develop an appreciation for our natural environment.
PennQuest is a four-day outdoor experience at a base camp before leaving for backpacking on the Appalachian Trail. First-year students will be divided into groups with each group led by two team leaders who are upper-class students. Participants sleep in tents on the trail for two nights. Tents are provided. Backpacks and sleeping bags are required for each participant and can be rented from PennQuest if needed. 
Each year, we receive more applications for the program than there are spaces available. Participants will be selected based upon a careful review of the applications.  Each application is reviewed and rated by the staff and student leaders of the program and a consensus is reached.  Those invited to participate will need to promptly complete registration forms and submit payment.  Students may apply to other pre-orientation programs as well and then decide which program to attend based upon their selection status.
Applications are due by June 20th 11:59pm ET. Be on the watch for email updates!
Each participant is required to pay a program fee of $395. Financial assistance is available to anyone who receives any aid to come to Penn. Please check the bottom of the application to be considered.
If you have questions, please contact Laurie McCall at LMCCALL@UPENN.EDU.
Applications are due by June 20th 11:59pm ET. Be on the watch for email updates!
Notifications will be sent in the evening on July 6th.
Saturday, August 19th
Students check in to their assigned residence (your room for the year) Go to your assigned College House to move in.
PennQuest Orientation Meeting
Sunday, August 20th
Pennquest will depart from campus at either 9:00am or Noon depending on if the University is requiring Gateway Testing. Meals will be provided all day through the end of the program.
Monday, August 21st
Begin hiking/camping trip along the Appalachian Trail
Tuesday, August 22nd
Continue hiking trip.
Wednesday, August 23rd
Return to Penn
NSO Begins
For additional information, please contact Laurie McCall at lmccall@upenn.edu
Note: PLEASE try to bring as few cotton items as possible. Synthetic materials (like polypropylene, capilene, and fleece**) dry much faster and keep your body much warmer than cotton — very valuable traits in the event of rain.
Things to wear:
4 pairs of wool socks
1 pair of hiking shoes (boots, trail runners, or stury running shoes)
1 pair of camp shoes (sneakers, sandals, or slip-ons)
4 pairs of underwear
1 pair of long underwear
1 pair of shorts
1 pair of long pants
1 long-sleeved base layer
2 short-sleeved shirts
1 warm outer layer
1 waterproof rain jacket
1 warm hat
Sunscreen
* Avoid cotton and linen fabrics – wicking is the best
Things you don't wear, but need to have:
1 internal or external frame backpack – at least 50 liters (available to rent)
1 sleeping bag rated to 40F or lower (available to rent)
1 sleeping pad
3 32oz water bottles (or equivalent water capacity)
1 flashlight or headlamp with fresh batteries
1 eating bowl with utensils
1 toothbrush and tube of toothpaste
2 large trash bags
Any required medication
Optional, but recommended:
Sunglasses, cap and/or bandana
Insect repellent
Camera
Extra snacks (plenty will be provided, but a personal snack bar or two can't hurt)
Things you shouldn't bring:
Phone, computer, or other electronics
Soap, cosmetics, or deordorant
Alcohol, drugs, or tobacco products
Tips and Tricks:
Backpacks – at least 50 liters or 3000 cubic inches
Hiking shoes – break them in before the trip to avoid blisters
* We may be able to rent a backpack and/or sleeping bag for you at a small fee.
** If you don't recognize these terms, ask anyone who is familiar with backpacking.
PennQuest Initiatives and Alumni Engagement – Beyond the Pre-Orientation Backpacking Trip
Since 1992, PennQuest creates unique bonds between participants and their leaders, while backpacking on the Appalachian Trail during the pre-orientation program.  After the trip is over, leaders will organize small group activities for their trail groups throughout the academic year.  In addition, the PennQuest Program Staff will work with leaders to create an established schedule of programs that participants can attend for their entire time at Penn.  With support from the Wendy Tao '01 Wellness Initiative, these centrally organized activities will help continue the connections and establish check in points for students.   These activities will be social or recreational and will be created with a focus on wellness.

PennQuest Leaders also form deep connections to their fellow leaders and have an impactful enthusiasm for the program and the people they met during their experience.  Because of this connection, PennQuest Leaders continue to be part of each other's lives after graduation. Leader alums will meet up during Homecoming, Alumni Weekend, and regional happy hours.   This fondness for Pennquest helped create the PennQuest Gift Fund to give back to the program.  Most gifts to the PennQuest fund are used to support the Sarah Gilfillan Scholarship Initiative, but there is more.
Created by PennQuest Leader Alumnus, Russell Kling '01, the gift fund reduces or eliminates the program fee for any student on financial aid, supports follow up programming, and purchases new equipment.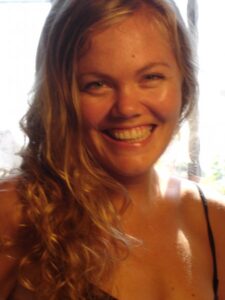 Sarah Gilfillan '03 was an outstanding PennQuest Leader who brought joy and integrity to the program. Sarah is solely responsible for establishing a closing ceremony on the trail. After Penn, Sarah travelled to South America and Mexico and worked with children in developing communities. As Curator of the Fowler Museum, she helped organize an exhibit devoted to HIV/AIDS. Sarah did many things in her short life and was a welcome presence in every situation. This scholarship fund is just one small way we can follow in Sarah's footsteps and help someone who could use a break. You can learn more about Sarah on the Facebook Group – In Memory of Sarah Gilfillan.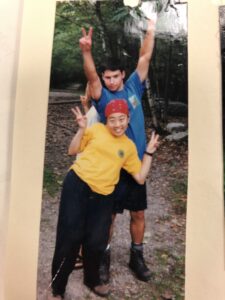 Wendy Tao '01 had the best leadership qualities when it came to care and attention to her group members.  She knew instinctively who needed help, when to be funny, and how to make everyone feel comfortable.  Wendy was a fierce adventurer who went on to work at the World Resource Institute, before becoming one of the top transportation engineers in the country.  She was a beautiful, kind soul and the most amazing mother, wife, sister, and friend.   Because of her love of life, adventures, and humanity, PennQuest offers wellness based follow up activities for all participants to continue to solidify connections and feel supported throughout their time at Penn.
Want to receive our semester newsletter and event invitations as an alumnus? Click the button to sign up!